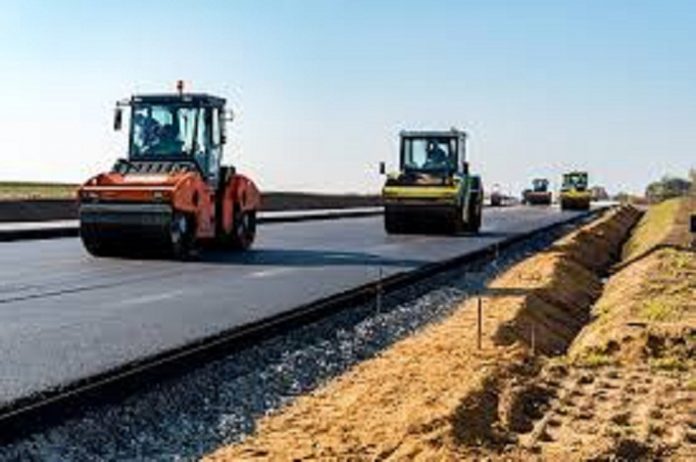 The government of Ghana has cut sod for the reconstruction of Kwabeng-Abomosu-Asuom road. This is after the project contract was awarded to First Sky Limited, a first-class local construction firm.
The 41.4km road project is part of 14 roads which the Minister for Finance, Mr. Ken Ofori-Atta approved a multi-year funding commitment of US $285m for their commencement. The roads are subject to section 33(1) of Ghana's Public Financial Management (PFM) Act, (Act 921), which requires a yearly breakdown of each project as well as detailed information on all on-going road projects.
The projects will see reconstruction, rehabilitation and upgrading of road networks spanning 381.3km across Ashanti, Brong Ahafo, Eastern and Northern regions of Ghana.
Kwabeng-Abomosu-Asuom road
President Akufo-Addo, who performed the sod cutting said that the government has released US $27m for the project. The proposed items of work include road formation, filling of low-lying and narrow areas to widen, concrete u-drain with slabs, scarification of existing bituminous road surface, amongst others.
Also Read:Ghana begins rehabilitation of roads in Ayawaso West Municipality
The contractors have 36 months to deliver on the road that leads to major cash crops areas, as well as food crops producing area in the Eastern region. Eastern Regional Minister, Eric Darfour, pointed out that about 3.40km of roads in the area were deteriorated, with the existing paved roads requiring improvements, including minor realignment, widening, construction of drainage structures, and surfacing, whilst 6.60km are unpaved roads requiring construction.
Transport infrastructure
Road transport is very important to the Ghanaian economy. It is estimated that road transport accounts for 96% of passenger and freight traffic in Ghana and about 97% of passenger miles in the country. According to the Ministry of Roads and Transport, Ghana's road transport infrastructure is made up of 63,122km of road network, linking the entire country as at the end of 2006.
Traffic densities are low, except in the large cities of Accra and Kumasi, where peak hour densities are relatively high. The country's objective is to have many of the existing highways tolled and private-sector participation in road construction and ownership.