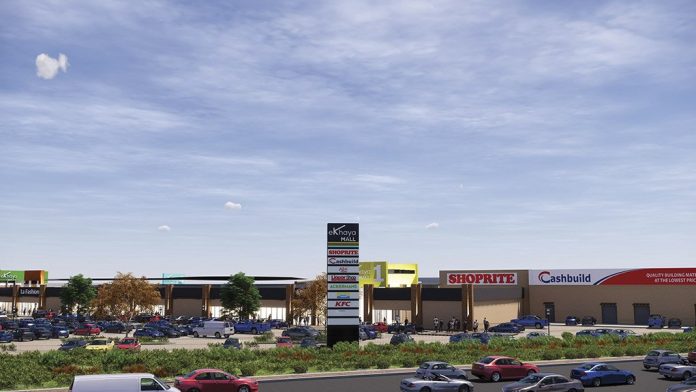 Construction of eKhaya Mall at the busy intersection of the R580 and the R546, at the entrance to eMbalenhle in the Govan Mbeki Municipality of South Africa has begun.
The project stakeholders including the co-owners, S-Identity Holdings, Cashbuild South Africa and Nomatiki Trading Enterprise had a sod-cutting ceremony for the project in the beginning of this month.
The development is planned to be executed in three phases. The first phase will take up an area of approximately 11,200 square meters and the second phase will sit on an about 1,450 square meters piece of land while the third phase will occupy nearly 1,350 square meters.
Construction of phase 1 and a portion of phase 2 will begin almost at the same time according to the investors, with the first phase expected to be operational in October next year. The scope of the work include construction of an open air parking as well as taxi rank facilities to accommodate approximately 17 taxi bays. There will also be improvement to the surrounding roads, including the reinstatement of public transport layby's and the construction of additional turning lanes and slip roads.
Furthermore, signs will be put up at the intersection on the R580 (the main access route into eMbalenhle from Secunda) and R546 (the main arterial route linking Evander and Standerton) as well as at the access to the mall from the R580.
Speaking during the sod-cutting ceremony, Mr. Themba Lukhele, Ward councilor, thanked the investors for the uptake and urged that 60% of the employment opportunities during the course of the project be granted to unemployed locals.
On the other hand, Ms. Thandi Ngxonono, Govan Mbeki Municipality's executive mayor promised to support the investors and let them know that the Govan Mbeki Municipality is also partners in this initiative. She also asked the investors to consider building a mall or a shopping complex in the south side of eMbalenhle.