UK Prime Minister Boris Johnson has congratulated Joe Biden on his US election win.
Mr Biden called the PM ahead of the leaders of other major European countries.
Mr Johnson said he looked forward to "strengthening the partnership" between the US and UK.
He is also understood to have assured Mr Biden that Brexit would not undermine the Good Friday Agreement on peace in Northern Ireland.
In a statement, Mr Biden's office said he had "reaffirmed" his support for the Good Friday Agreement, which his Democratic predecessor in the White House, President Bill Clinton, played an instrumental role in bringing about.
It said he had also expressed his desire to strengthen the historic "special relationship" between the two countries and "redouble co-operation" on issues of mutual concern, including health security and promoting democracy.
The media declared Mr Biden the election winner on Saturday after he passed the threshold of 270 electoral college votes.
But counting is ongoing in some states, with incumbent President Donald Trump disputing many of the results.
A Downing Street spokesperson said the prime minister had "warmly congratulated" Mr Biden and "conveyed his congratulations" to Vice-President-elect Kamala Harris.
Brexit assurances
"They discussed the close and longstanding relationship between our countries and committed to building on this partnership in the years ahead, in areas such as trade and security – including through Nato," the No 10 spokesperson added.
"The prime minister and president-elect also looked forward to working closely together on their shared priorities, from tackling climate change, to promoting democracy, and building back better from the coronavirus pandemic."


There is always a clamour to get an early call with a US President-elect.
It seems Boris Johnson has fared well – with his phone ringing before other European leaders.
Downing Street will hope that's a sign that Joe Biden values the "special relationship" and wants to work closely with Mr Johnson.
But it's important to note President-elect Biden has been talking tonight about the importance of the Good Friday Agreement in the context of Brexit.
It was raised in the call with the UK prime minister, who insisted the peace treaty would be protected by his plans.
The controversial Internal Market Bill – which Mr Biden has previously raised questions about – wasn't discussed by name.
But the UK knows the sands in the White House are shifting. A Brexit enthusiast is being replaced by a sceptic.

The 25-minute conversation came amid concerns that Mr Biden's previously stated dislike of Brexit – which Mr Trump, by contrast, supported – could strain relations.
It's understood Mr Johnson and Mr Biden discussed the importance of implementing Brexit in a way that upholds the Good Friday Agreement.
Mr Johnson assured the President-elect that would be the case.
'Irish roots'
Mr Biden later spoke to Ireland's Taoiseach (PM) Micheál Martin, in what Mr Martin's aides described as a "warm conversation".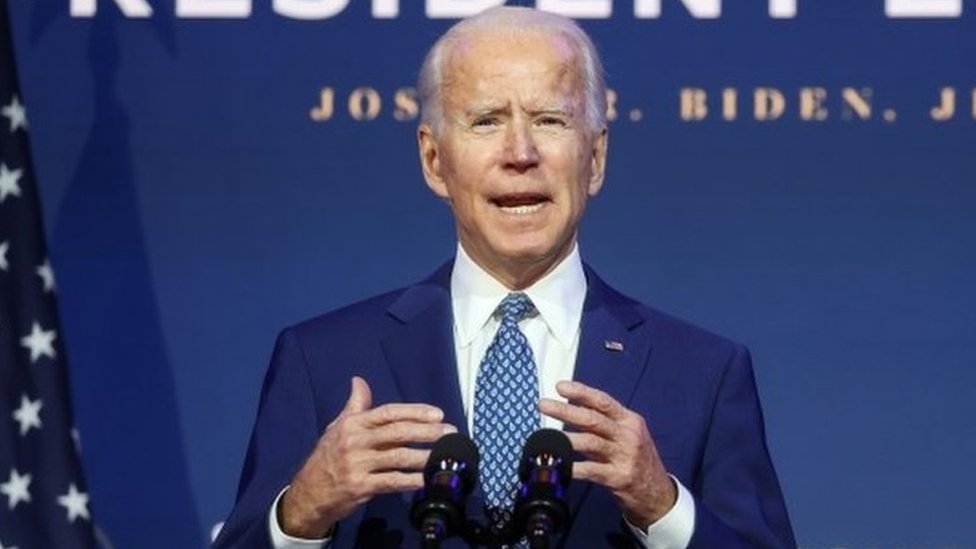 "President-elect Biden recalled his strong Irish roots and his visit to Ireland with his family in 2016," the Irish government said in a statement.
"The President-elect reaffirmed his full support for the Good Friday Agreement and they discussed the importance of a Brexit outcome that respects the Good Friday Agreement and ensures no return of a border on the island of Ireland."
The president-elect later spoke to French President Emmanuel Macron and German Chancellor Angela Merkel.
Mr Macron promised to work with the US to tackle climate change and terrorism, while Mrs Merkel said she wanted a close working relationship with the Biden administration, their spokespeople said.
Earlier on Tuesday, the UK government blamed a "technical error" for a tweet from Mr Johnson congratulating Mr Biden on his US election victory which faintly showed the name "Trump" in the background.
source www.bbc.com